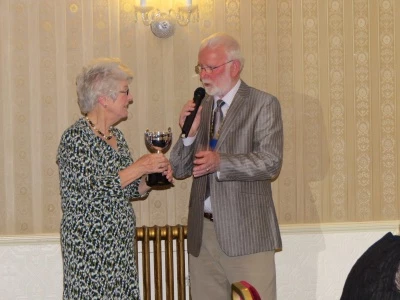 The President's Cup
At the Social Evening at Adderley Village Hall on the 19th February, the President's Cup will be awarded to the winner. For anyone not familiar with the history of this prestigious award here is a brief history.
The 2013 holiday to the Lake District centred on a hotel with it's own pitch and putt course. Roland Hall suggested a golf competition for the afternoon of the coach free day, an idea that was enthusiastically supported by the committee. The then President, Rodney Cottrell, generously volunteered to provide a cup to be awarded to the winner and the President's Cup was born.
The pitch and putt competition took place in somewhat damp conditions (well, it was in the Lake District!) and Peter Ellis became the first holder of the cup.
In 2014 we went to Scotland for the Annual Holiday and Roy Plume provided a luxury, made to measure, Tiddly Winks board for the competition for the President's Cup, which was hotly contested and finally won (after a nail biting run off) by Pat Winfield who then became the next (and current) holder of the cup.
For the 2015 season, the Committee has decided to move the event away from the Annual Holiday to a club social event to enable more members to compete. The games evening in February seemed an obvious choice (much to the disappointment of Pat, whose tenure of the cup will be foreshortened by a couple of months).
So members and your guests, here is your chance to become the proud holder of this much sought after award by buying tickets (£10 per head including games, wine tasting and supper) for the social evening at Adderley Village Hall on 19th. February.