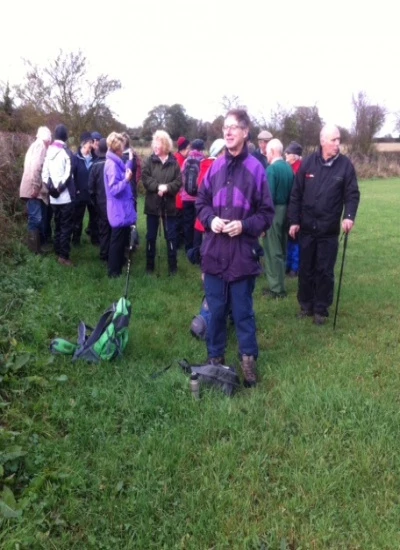 There was an excellent turnout-over 30 members and guests- for the Probus Walk on November 12th. Organised by John Williamson and Mike Banks, we met at the Dusty Miller and drove in convoy (well most of us- see later) to the Farm at Marbury.
We then set off in splendid weather (see later!) and headed across the fields, lanes and particularly attractive canal paths. Plenty of stiles -probably a record-but no accidents.
Returning to the farm we were given a tour and demonstration of a Robotic Milking Parlour where 60 cows are fed and milked with little human involvement. They are free to roam the cowshed and feed and go to be milked when they decide.If they go too often the machine checks and does not connect.
It was then off to the Farmers Arms (how appropriate with our large group of Farmers) at Ravensmoor for a well deserved lunch and drink. Mike Banks then offered an afternoon tour of his special Budgerigar Aviary.
A couple of human interest tales relating to Probus members,Bernard Gribbin and John Evans. Bernard took the wrong turning out of the Dusty Miller but it was near the end of the walk when we noticed he was not with us. Naturally concerned we rang his mobile and he answered confirming he had not been able to find the farm and returned home!.
John never made it to the Dusty Miller, opting out at 9am as there had been a light shower overnight and returned to his bed. He missed a super walk with glorious autumn weather and not a spot of rain!.
A big thank you to Mike and John for organising a very enjoyable walk